Ffestiniog Travel
Keep in touch with developments at Ffestiniog Travel
3 minutes reading time
(699 words)
Ticket to Ride by Tom Chesshyre
We continue our 'Recommend Railway Read'blog with Tom Chesshyre's Ticket to Ride which also includes a Ffestiniog Travel mention after Tom joined us on one of our Small & Traditional escorted tours to Kosovo.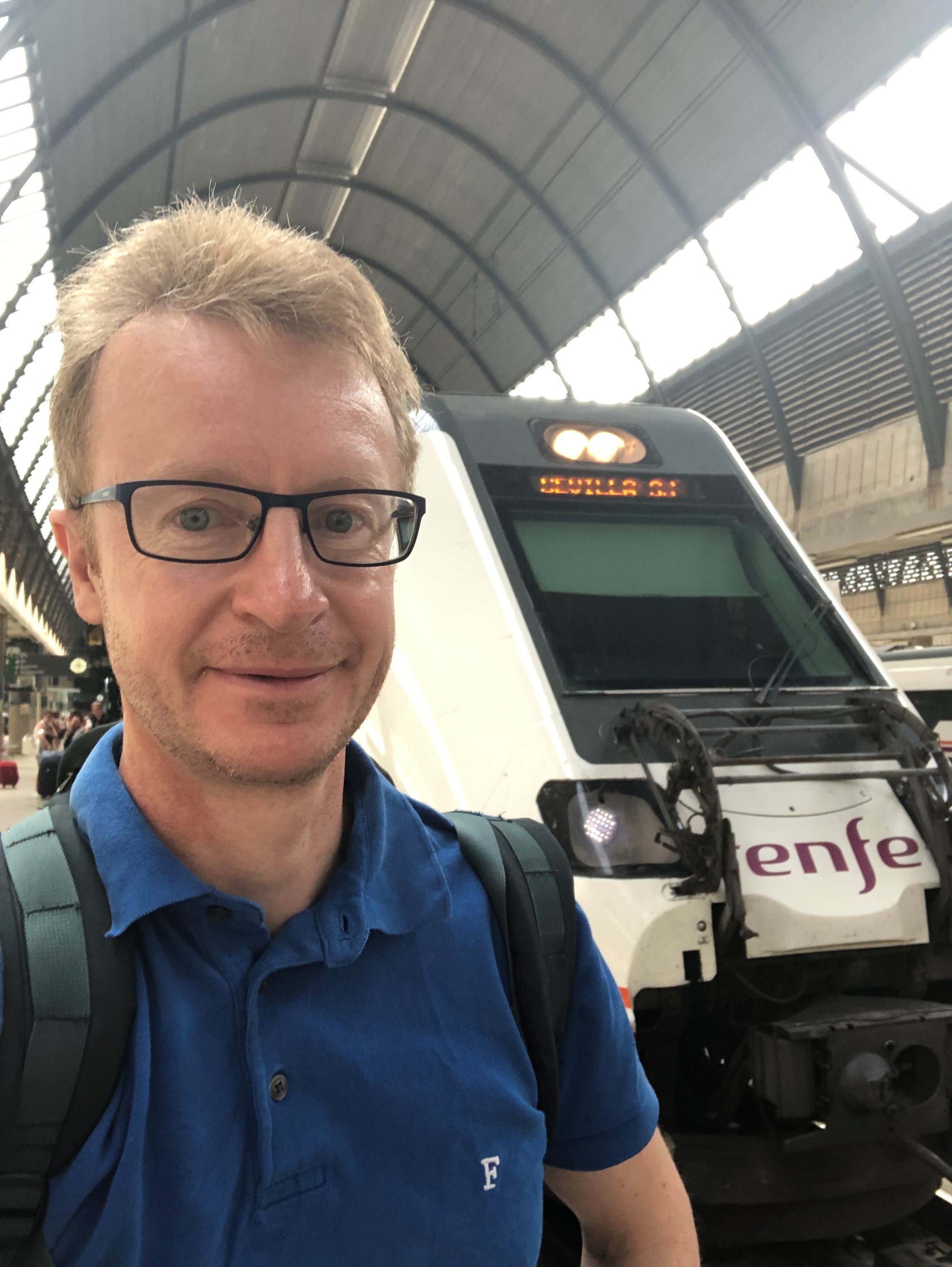 Tom Chesshyre worked on the travel desk of The Times for 21 years and now contributes to The Daily Mail, The Mail on Sunday and National Geographic Traveller magazine. He has written three train travel books taking him to countries as diverse as North Korea, Peru, Australia, Iran, India and Russia (on the Trans-Siberian Express). His forthcoming book Slow Trains Around Spain: A 3,000-mile Adventure on 52 Rides will be published later this year.
He has always enjoyed trains as he believes that you get a much better feel for landscapes (through carriage windows) and the people who live in them (through chance encounters) when travelling along the tracks. It is difficult for him to pick his favourite all-time journey. Of recent rides, he says he greatly enjoyed the trip between Almeria in southern Spain to Granada, twisting through the remote wilderness of the Desierto de Tabernas before winding onwards past the snow-capped Sierra Nevada mountains.
In this extract from Chapter Two - Kosovo and Macedonia of Ticket to Ride: Around the World on 49 Unusual Train Journeys, he describes the excitement of joining Ffestiniog Travel's tour in Kosovo - about to set off in the direction of the 'Accursed Mountains'.
AT Pristina Station, I am joined by a pregnant local woman whose eyes seem to be popping out of her head.

She is regarding my travel companions, who have just about taken over this sleepy spot in the capital of Kosovo – clambering across tracks (permitted) to the platforms with cameras dangling from their necks and forming haphazard welcoming party for the 16:30 to Peja.

I ask her if she has ever previously seen any rail enthusiasts (or trainspotters). From her gaping expression, it would appear not.
'Nothing like this before,' she whispers, with a note of awe mixed with bewildered reverence. 'Not in my life,' she says.

There is a stirring on the platform. The big event is coming soon. A faint trail of black smoke can be seen in the distance. The smoke draws closer and soon a big red train with yellow streaks growls into view, rattling up with a blast of its horn and a series of shrill whistles.

Cameras click as though we're by the red carpet on Oscars night. There's electricity in the air. This is why Ffestiniog's customers have paid to come to Kosovo, for a journey that's continuing onwards to Macedonia and Albania to the south: trains they've never seen before.

At this happy moment, I am beside Steve, a 57-year-old retired accountant from Whitchurch in Shropshire. Earlier Steve had been among the more subdued of the group. Now, however, he is transformed: elated and beaming, full of life.

'A proper loco,' he says. 'This is what everyone was hoping for. They're delighted.'

We board and sit at old red seats with a thin grey zigzag pattern as the train pulls away to Peja. We clatter and sway past grim communist-era apartment blocks and tumbledown yards. Smoke from the engine sweeps past the window. There's something pleasing about the way it does this, almost as though we're on an old-fashioned steam train, rather than one that's simply pumping fumes into the sky.

Alan, our tour leader, advises us to look out for a train depot at a fork in the line. The depot comes into view, prompting another paparazzi-style volley of camera shots. The keenest photographers squeeze lenses out of little windows that open at the top of the main windows. There is no small competition to get the best position to do this. As we pass, all heads turn to regard the ramshackle structure.

After this excitement, we continue on through green rolling hills with patchwork fields of crops and the occasional tractor. Our journey into a little-visited corner of south-eastern Europe has begun, as many trains as possible all the way.
Tom Chesshyre's train travel book Ticket to Ride: Around the World on 49 Unusual Train Journeys is available on Amazon or (Summersdale, £9.99).
Stay Informed
When you subscribe to the blog, we will send you an e-mail when there are new updates on the site so you wouldn't miss them.