Rail Holidays of the World
Over 40 years of providing rail holidays and rail travel services. Experts in escorted rail tours for both the 'train tourist' and 'rail enthusiast'. For independent travellers we create Tailor Made rail holidays in the UK, throughout Europe and across the globe. We offer group travel services for Special Interest Tours, corporate travel and educational field trips. Our dedicated Ticket Only department at MyRailTrip can get you anywhere by train no matter how complicated the journey. We have an ingrained knowledge and experience of today's rail services, heritage railways and iconic train journeys to destinations around the world; We understand what people want from a rail holiday – a journey to remember, culture, leisure and content that offers value for money.
Daily Telegraph writer Graham Coster provides a brief history of Ffestiniog Travel.
Rail Holiday Reviews

Springtime in the Caucasus May 2016
"Excellent arrangements and superb tour leader." Mr S. R. Irwin, York.
Indian Hill Railways February 2016
"Just a note to say thank you to Ffestiniog Travel for organising this tour, we both thoroughly enjoyed it, a good mix of rail and normal tourist activities. I was particularly pleased with our trip on the line to Darjeeling with steam all the way, truly incredible railway. We would recommend this tour to anyone." Mr & Mrs Stephens, Hampshire.
Explore Sri Lanka by Rail February 2016
"The range of visits and their interests was simply marvellous. The local guide made the whole experience exceptional through his extraordinary delivery, communication skills, selection of sights, knowledge of the country and professionalism. This is a highly recommended tour." Mr and Mrs N. Harcourt, Berkshire.
Snow on the Alps February 2016
"You got me there and back safely and the holiday fulfilled my expectations - and then some. The presence of your experienced and helpful tour leader made my holiday worry free and thoroughly enjoyable." Mr F. Howes, Gwynedd.
Mountains & Forest in Rural Romania September 2015
"Excellent - We say 'Go to Romania and when you do, go with Ffestiniog Travel'." Mr & Mrs B. Mallett, Buckinghamshire.
Read our Rail Holiday Newsletters for inspiration on finding your ideal rail holiday.
Christmas 2016 & 2017 Escorted Rail Tours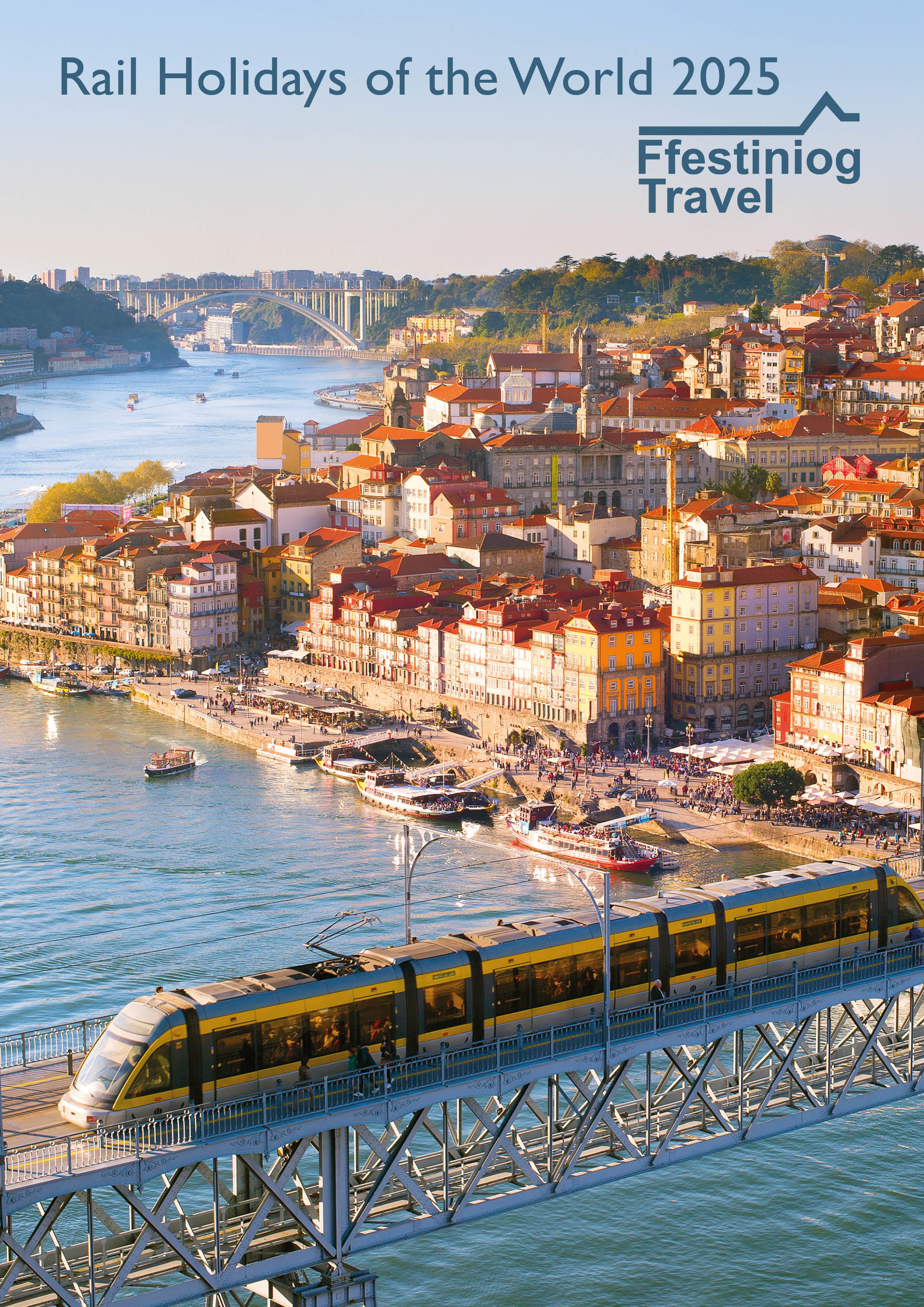 Our Rail Holidays of the World 2017 Brochure is now out with a record 38 escorted rail holidays offering a broad range of destinations and types of tours. There really is something for everyone. All our escorted tours visit interesting destinations and are rich in content so will interest anyone seeking to explore the world within an organised group whilst enjoying the company of fellow travellers and the security of a guided holiday.
You have the choice of two Christmas Market tours this year, visiting Budapest's festive city centre with its cottage-style wooden stalls selling wonderful gifts. This tour also includes a day trip to Bratislava. We return to Germany to enjoy the festive traditions in Stralsund on the Baltic coast, a UNESCO World Heritage town. You can now book on our annual Christmas & New Year in Switzerland rail holiday to guarantee a 'white Christmas' and a 'happy New year' with fellow travellers as you journey by train and view the snow-capped vistas of the magnificent Swiss Alps.
We have an exciting rail holiday to South Africa in early 2017, which combines wonderful tours of Cape Town and the Cape Peninsula with safaris and visits to wildlife centres PLUS the chance to enjoy the famous Stars of Sandstone Heritage Steam Festival. We are repeating two of our most popular winter rail tours - Snow on the Alps is a truly wonderful winter break when you can explore the beautiful Alps with a first class Swiss Travel Pass from your base in Interlaken and Chur. We return to India in February 2017 on this successful tour that takes in the three magnificent railways that served the former British Hill Stations.
For information on all our2017 escorted tours at a glance, see out online brochure. Or you can see the full day-to-day itineraries of all tours on this website. We look forward to visiting new destinations next year including Uzbekistan and Cambodia, as part of a combined Vietnam tour and we have created new rail ethusiast holidays to tempt those who enjoy rail, steam and tram travel including Bulgaria by Steam, Trams of Central Europe, Northern Germany, Sweden and England as well as a tour to coincide with the Dresden Steam Festival.
We have also extended our Rail Holidays Direct and Small & Traditional range with visits to the Romania's Danube Delta and The Carpathians, Strasbourg and Bruges. If you are inspired by any of our tours please book online or contact us at This email address is being protected from spambots. You need JavaScript enabled to view it. for more information. To obtain a hard copy of our 2017 Brochure, call 01766 772030 or click below.
Christmas Tours 2016

Enjoy festive shopping at the Christmas Markets of Hungary's regal capital Budapest or the UNESCO World Heritage city of Stralsund on the Baltic Coast. Our annual Christmas & New Year in Switzerland tour will guarantee a 'white Christmas. Bookings now being taken.

South Africa – Book Now!

Combine a wonderful South African 'safari & steam' sightseeing tour of Cape Town and the Cape Peninsula with the world famous Stars of Sandstone Heritage Festival.

GCRJs – Romania by Rail

GCRJ's latest series includes a great episode on Romania. If inspired consider our Romanian Small & Traditional tour.

USA Solar Eclipse 2017

A special tour to see the USA Solar Eclipse in August 2017 and includes substantial railway content too.

Dresden Steam Festival

A great 8-day rail holiday that combines a visit to the Dresden Steam Festival and much more.

Bulgaria by Steam

A chance to ride the fabulous Royal Train on a private charter through Bulgaria's most scenic areas.

It has never been so easy to explore Europe's cities by train. The holiday begins when you board Eurostar.

Ffestiniog Travel provides 'out of hours' support for all independent travellers in the event of an emergency.