Ffestiniog Travel
Keep in touch with developments at Ffestiniog Travel
19 minutes reading time
(3759 words)
Getting to Know our Travel Team
Many of you will be familiar with Ffestiniog Travel's team members, having liaised with them when planning and booking your rail holidays and train journeys with us. Some of you may have met them face to face as tour leaders, as several have escorted our train tours. Some of the team have been furloughed and others have been busy working from home during the COVID-19 lockdown, fulfilling refund obligations, dealing with suppliers and planning tours for 2021. We thought it would be a good idea to check in with them and find out a little more about what inspires them and their favourite places to visit around the world. Some have been with the company for many years and have benefitted from its in-house training opportunities and moved up the ranks to take on more travel responsibilities – a reward for their continued expertise and dedication to Ffestiniog Travel and its customers. We asked them some broad questions, ranging from their favourite rail journey to their favourite book and meal, so we could give you a little snapshot of the people who help make your rail holiday dreams come true!
Maria Cook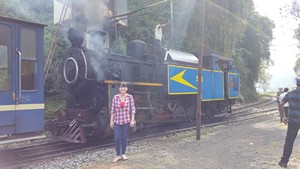 My first position with the Ffestiniog family was as a Switchboard Operator for the Ffestiniog Railway back in February 1997. I am now General Manager - having worked my way through the ranks at Ffestiniog Travel, I have experienced all aspects of the business and I have really enjoyed being part of taking the company forward to where we are today. The tour that has captured by heart is the Indian Hill Railways and I was privileged to get to travel on the 2017 Indian Hills tour - the experience will stay with me forever and the country is my favourite place to be. It is an attack on all your senses, in the best way. I discovered my favourite rail journey in the world on the Kalka/Shimla line, that the Taj Mahal was more awe inspiring in reality and the local people I met along the way have left a lasting impression on me. I definitely want to go back, but with my loved ones to share the experience with them. The Kalka/Shimla rail line travels at a leisurely pace through some of the most spectacular scenery as you climb up to the hill station at Shimla. En route I ate the best samosas ever at Barog Station! Another top holiday moment for me was when I went skiing for the first time to Maurach on Lake Achensee in 1990. Whilst I wasn't a natural skier, I had the most fantastic time. I laughed daily at my poor attempts at skiing, ate wonderful food and made lifelong friends, all in a winter wonderland setting which was magical! The three places that I still yearn to visit include Borneo, to see the Orangutans, The Galapagos Islands and Sri Lanka.
On a more personal front the last book I read was an autobiography about the singer Prince, as I am a huge fan! The one film that always comes to mind when asked to choose one is Jack and Sarah starring Richard E Grant. It begins with a heart breaking story line and takes you on a journey of unexpected twists and turns, very enjoyable. Other than the samosas in India my top meal would be my mum's beef stew and dumplings and despite attempts I cannot get close to replicating the same dish! When at school I was very keen on sports, especially gymnastics and went to see the Russian gymnasts in London when I was 11 years old who had such an impact that I covered my bedroom walls with posters of Nellie Kim, joined the school gym squad and passed all of the BAGA awards. Finally the person who has inspired me most is my Grandmother.
Michelle Hawes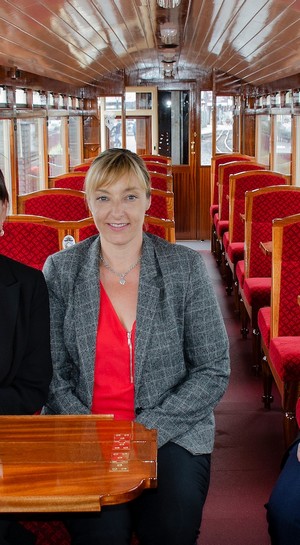 I joined Ffestiniog Travel in 2011 in a temporary role covering maternity leave on the domestic rail desk. Nine years later and I am still here, having risen to the position of Travel Manager. I love being able to create itineraries for my tailored rail holiday clients who want to create their trip of a lifetime. One of my favourite tours that I administer is our Best of Colorado tour. Over the years I have developed great working relationships with the staff at all of the heritage railways we visit and it is lovely to be able to keep in touch with them regularly and help bring passengers to them. My favourite rail journey has got to be the Welsh Highland Railway from Porthmadog to Caernarfon - the scenery is beautiful and it is right on my doorstep! My most memorable travel experience was when I visited my husband in Cyprus when he was serving a six month deployment as part of the United Nations Peacekeeping Force. At the end of a lovely two week holiday in Paphos I went to see where he was based. Spending the night in no mans' land and walking through the deserted buffer zone to cross into northern Cyprus was an experience I will never forget. If I had to choose my favourite place to visit it would be Japan - without a doubt one of the most interesting countries I have visited. The mix of traditional and modern architecture within steps of each other is amazing. I love the culture, food and the people. Looking ahead my top three places to visit are Machu Picchu in Peru, New York and the beautiful Maldives. On a personal level my favourite book is 'The Hundred Year-Old Man Who Climbed Out of the Window' – because it is bizarre and funny! 'Breakfast at Tiffany's' is one of my all-time favourite films as I love the 1960's glamour and Audrey Hepburn's portrayal of Holly Golightly is simply wonderful. My favourite meal has to be my daughter's Thai green curry - special because it is made with love. No one individual inspires me but I am inspired by all those throughout history who have stood up for the rights of others. If I had to swap places with another living creature it would be a bird as it would be awesome to be able to fly.
Dan May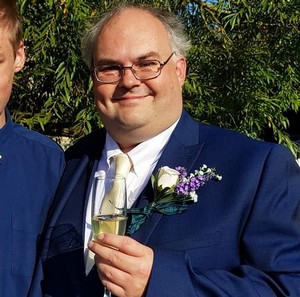 I was recruited as UK Rail Ticket Consultant for Ffestiniog Travel in 2002 and my current title within the company is UK & European Ticketing Supervisor. My main focus is the Ticket Only side of the business which I enjoy because I like the challenge of planning complicated rail journeys. I also enjoy being involved in the escorted touring part of the company too and one of my favourite destinations is the Small & Traditional tour to Uzbekistan. I have led this tour and I found it to be a very beautiful and fascinating country. My favourite rail journey is the classic Bernina Express train, a very beautiful rail route with magnificent scenery and fascinating architecture. My most memorable travel experience was on a personal holiday to Dubrovnik and in particular walking around the city walls, but my most favourite place to be has to on the Victoria & Albert waterfront in Cape Town. I am looking forward to expanding my travel and experiencing the delights of New Zealand, New York, and Moscow in particular. One of the best travel reads I would recommend is 'Round Ireland with a Fridge' by Tony Hawks based on his hilarious hitchhiking journey around Eire with a fridge! Away from travel a favourite read is the WW2 book 'Blue Man Falling' by Frank Barnard. I enjoyed the TV series Band of Brothers and this was billed as "one to read if you liked the series". The film Sum of All Fears based on Tom Clancy's spy thriller is my 'go to' favourite film. When it comes to food the best meal is a BBQ on the beach with friends. Finally my 'not so secret' passion is amateur dramatics and I am currently the chairman of an local 'am dram' company!
Kate Berry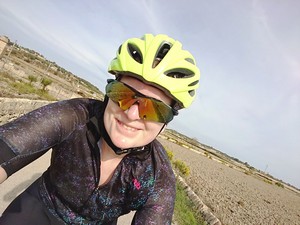 I joined Ffestiniog Travel as an Admin Assistant in 2013 and seven years on I am now a Senior Travel Consultant, responsible for putting together and administrating a number of our escorted tours, as well as tailor made holidays. The latter are what I really love doing because I particularly enjoy the challenge of creating 'once-in-a-lifetime' trips, tailoring them to the specific travellers. I get a real buzz out of helping create the excitement that travel brings. I am looking forward to organising our new Caspian to the Black Sea escorted tour which departs in 2021. I produced the itinerary which combines two really interesting destinations that aren't overly touristy yet. It's going to be a great mix of cities and countryside, with plenty of time to soak up the different cultures. Plus I love an overnight train journey, especially when you go to bed in one country and wake up in another – It is such an adventure! I have been fortunate to enjoy many memorable rail journeys, but for the sheer distance, on board luxury and off-train excursions, it has to be The Ghan in Australia. The scenery is far more varied than I had imagined. My most memorable was cycling the length of the Rhine with my husband back in 2017. We began in mountainous Switzerland and ended on the beach in the Netherlands two weeks later having ridden through Lichtenstein, France, Germany and Belgium. It was an incredible experience and we saw so much. Hard to say which is my favourite place to visit as I haven't been everywhere yet! But for sheer, breathtaking beauty and countryside to people ratio, I would have to say New Zealand, although Wales also boasts beautiful scenery and is very close to my heart – I am very glad we moved here. If I had to choose three places I still want to visit it would be South America, Alaska and Norway.
As a keen cyclist my I have enjoyed reading 'No Wrong Turns: Cycling the World, Part One: Paris to Sydney' by Chris Pountney. This is a great book for feeding your wanderlust and it's very entertaining which is important in the current climate. Cycling is similar to travelling by train in that you see more of a country and get to meet a lot of locals en route - this book gives some fascinating insights into different countries and cultures. I also read 'The Pants of Perspective' by Anna McNuff recently. It documents Anna's solo 3,000 km run along New Zealand's Te Araroa Trail. Along the way, she talks to school children about adventuring and is often taken into the homes of strangers - a lovely reminder of the kindness of humanity. I found it really inspiring and hope to do my own long distance run one day, perhaps down the Welsh Coastal Path. In terms of favourite food, it was probably the veggie burger I had at a hotel bistro in Sonsbeck near Xanten on the Rhine trip. We had cycled 130+ miles in 30 degree heat and arrived late having missed a turn off on a long downhill, adding an extra 20 miles or so of rough steep gravel track to an already long day. We were so hungry and so exhausted (not to mention filthy with dust and dirt, much to the bewilderment of our fellow diners) we would have inhaled anything, but we both still maintain they were the best burgers we've ever eaten! A further revelation is my phobia of slugs, made worse by the fact that I have a talent for attracting them as they always seem to gravitate towards me. If I could be any creature it wold be a bird, something like a Red Kite as I love the idea of being able to fly wherever, whenever - what freedom!
Ruth Willmore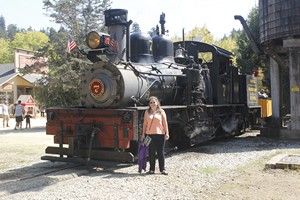 I was born the same year in which Ffestiniog Travel was established in 1974 and 30 years later in 2004 I joined the company in its European and UK Ticketing Department when it was still based at Harbour Station in Porthmadog. I currently work as consultant for both escorted and tailor made tours, specialising mainly in European destinations and a few UK and worldwide ones. My favourite tour to manage is Behind the Scenes in North Wales because I enjoy working with the various heritage railways in the region and be in a position to enable customers to gain access to areas the public don't normally see. Footplate rides and other unusual experiences at many of the railways make it a very memorable tour. For scenery I would choose the Bernina Express as my favourite rail journey with all the twists and turns and the contrast between the snowy mountains and sunny Tirano. A stand out travel experience that I really enjoyed was journeying from Los Angeles to Dallas on the Texas Eagle, which took 44 hours! It was comfortable, the staff lovely and the food delicious. Our bedroom had everything we needed for the two nights, including a shower. I expected to get bored spending so long on one train but I didn't. The scenery was constantly changing and it was interesting to see the Mexican border. I particularly enjoyed chatting with the other passengers in the dining car and finding out why they were travelling. We will definitely be including more Amtrak journeys in future holidays, once travel is possible again.
It is difficult to choose a favourite place to be as there is still a lot of it I haven't (yet) seen, but I find it hard to choose between where I live in North Wales with its perfect combination of sea, mountains and heritage railways and the Isle of Man for similar reasons. I am looking forward to visiting India one day. I have wanted to go since my Mum visited when I was about 7 years old. My trip in March this year was sadly postponed due to Coronavirus, but fingers crossed for next year. I would love to see the Taj Mahal and ride the wonderful steam trains in India.
As a big fan of Harry Potter, I would love to visit Diagon Alley and pop in to Honeydukes sweet shop and have Ollivander choose me a wand and buy an owl, but I suspect Harry Potter World at Universal Studios is as close as I'm going to get. Finally Iceland is also on my list to visit to see the volcanic eruptions, geysers and much more.
The last book I read was a Pride and Prejudice fan fiction as I love everything by Jane Austen, and losing myself in familiar characters and a time when life seemed simpler is great escapism. I recently watched the film The Imitation Game and enjoyed finding out more about Alan Turing's brilliance, but the way he was treated made me very sad. The meal I most remember was our first night on board the Queen Mary in Long Beach, California. I can't actually remember what I had for the main course, but sitting on board such a beautiful Art Deco ship, watching the water through the port hole by our table was a lovely experience. For dessert I had a banana split, which came decorated to look like the Queen Mary herself. Sitting out on the bow sipping Californian Champagne afterwards, the furthest I have ever been from home, was a lovely evening.
Eileen Clayton, who worked and volunteered on the Ffestiniog Railway for over 40 years is someone who inspired me to get on with what I wanted to do in life, to help others and to be the best that I can be. Having said that the film title to describe my life would be My Dysfunctional Family and Other Animals based on the Durrell family may be it and if I could be another creature it would definitely be a cat, having a good excuse to nap most of the day!
Awel Toohill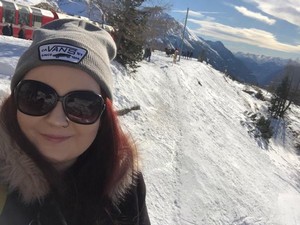 My original position at Ffestiniog Travel was UK Rail Ticketing Consultant when I joined in 2015 and my current role is Tailored and Escorted Tours Consultant. What I love most about the role is receiving feedback and reports from customers who enjoyed their holidays. It makes all the hard work worthwhile! I also love researching destinations that are new to me and it's so interesting working out the logistics to each enquiry. On the other hand the role can make you envious of those lucky enough to go to such amazing places - my bucket list of places to visit seems to grow daily! My favourite rail journey is an easy one to answer - hands down it has GOT to be the Bernina Express! Nothing tops the stunning variation in scenery. I've been lucky enough to make the return journey twice and both times I have been left in awe each time! My favourite place in the world has to be North Wales. I feel blessed that I can stand on my doorstep and see both the mountains and the sea, and nothing can beat the passion of its people, the culture and the overwhelming beauty. Top three places that I am keen to visit would be Las Vegas as I am particularly interested in Area 51 and the secrecy that surrounds it. Antarctica is on my 'must visit' list, mostly for the penguins! And for a little warmth, Bali, which really doesn't need any explanation. I am a lover of Chinese food and even though I haven't been to China (yet) I believe I sampled the BEST vegan Chinese food while InterRailing in Copenhagen in 2018 and can't wait to go back for more! Having spent more time at home recently I have been ticking my 'must watch' films off my bucket list and I am currently watching all of the Star Wars films – so far I think they are a bit overrated! If I had to choose a film that described my life right now it would have to be Quarantine made in 2008!
Josh Evans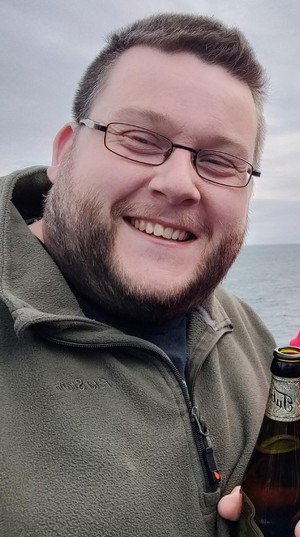 I am one of the new team members having joined Ffestiniog Travel in 2018 as a Travel Consultant which I am thoroughly enjoying as we get asked to plot out a rail route from point A to point B and I love the challenge of working out the course, especially when it's not always as straightforward as you hope it will be! To date, my favourite rail journey would be the Breinzer Rothorn Bahn in Switzerland. Travelling up the Brienzer Rothorn on a cog railway is amazing enough, but the views when you get to the top are something else! One of my most memorable travel memories has to be my recent honeymoon in France where we visited both Paris and Marseille. As lovely as Paris was, Marseille was our favourite. The Old Port is gorgeous and having a glass of wine whilst sat outside one of the many cafes and bars in the sunshine is a must! Switzerland is also another favourite. I've only been once but I fell head over heels in love with the country, especially the Aletsche Glacier and the national park that surrounds it. I wouldn't hesitate to go back there and hope to take my wife as soon as we can! Japan is a country that has been on my bucket list for as long as I can remember and anything to do with the country is a plus for me. Other places to visit would be Alaska and Egypt. I love reading Sci-Fi and Fantasy books and I recently finished The Last Wish by Andrzej Sapkowski, the books that inspired the new television show The Witcher. I thoroughly enjoyed it and I'm about to get stuck into the next book in the series. One of my favourite films is Star Wars: The Empire Strikes Back. I love all three of the original movies but the second one is my favourite. Favourite meal has to be my Wife's Hunters Chicken as she makes her own barbecue sauce and it is amazing! The person who has inspired me the most is my Taid (Grandfather) as he was the kindest and most intelligent man I had the pleasure of knowing. If I can be half the man he was I know I'll be doing ok!
Liz Turner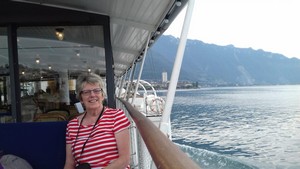 I have been with the company since it started in 1974 and retired in 2019 after 45 years' service, back briefly to help out voluntarily during the COVID crises. In the beginning I was Alan Heywood's secretary so did the administration for the rail holidays. When I retired I was European Tours Manager and the biggest thrill for me throughout my career in travel was the interaction with the customers and their satisfaction with the holidays they booked. If I had to choose a favourite rail journey it would be the Bernina Express in Switzerland. It's route over the Alps is stunning for scenery and is a feat of engineering. A few years ago in Switzerland at Christmas we set ourselves a challenge - to have a glass of champagne whilst riding the train over the Gotthard Pass on Christmas day and we did it! I am not usually fond of cities but given the chance I love visiting Berlin. The changes since I first went there are remarkable. In terms of countries I would always be happy in Austria or Switzerland. I would love to visit some the natural wonders of the USA, including the Grand Canyon and Monument Valley!
As a tour leader I would recommend reading 'Switzerland by Public Transport' by Anthony Lambert. It is an excellent companion if travelling on a Swiss Travel Pass or looking for something to do without having a car. I have enjoyed some light-hearted lockdown reading via Kindle and have just read a few by Aurora Hanson that are based in Wyoming and Montana in the late 1870s. The last film I watched at the cinema was 1917 and I recently saw Bohemian Rhapsody on TV, but my go to film is either Love Actually or Dances with Wolves. I am an avid knitter and used to enjoy lots of skiing way back in Scotland. As one of four sisters I spent a lot of time with my father growing up and he was a terrific role model and lots of fun as well. I was more happy helping him with DIY than learning to cook with Mum.
Stay Informed
When you subscribe to the blog, we will send you an e-mail when there are new updates on the site so you wouldn't miss them.